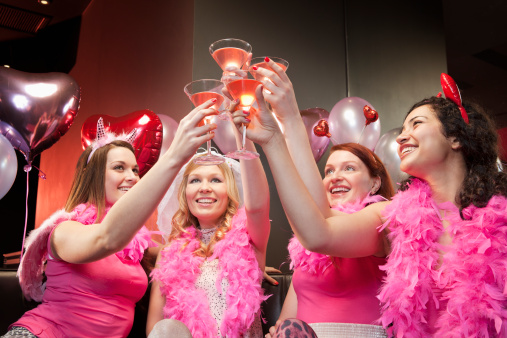 Being the best man or maid of honour for the to-be married groom and bride, it becomes your responsibility to throw them a perfect hen/bucks party. After all, it will be the last of such gathering where the bride and groom would have the opportunity to party like a bachelor/bachelorette and the excitement is quite wild! To make the event fun and smooth, here are some things that you need to take note of:
Picking the day
Choose a date that is comfortably apart from the big day as you wouldn't want either the groom or the bride to wake up on the day of wedding with a hangover! Keeping the bride in the loop, it is ideal that the buck/hen party is organised weeks before the wedding. As the wedding date closes, there will always be small details that still need to be taken care of and you wouldn't want either of them to lay down with a headache.
Creating the guest list
The hens party is a very personal event and you wouldn't want to have a crowd that you or the bride scarcely knows to share the intimacy. At the same time, it is necessary that you ensure that no important friend, family or guest is left out.
Personalising the invite
Hens party invitations are a little informal, giving an idea of the fun in line. It is necessary that you make the invite memorable and personalisation is a way out.
Find a theme
If you have a comfortable budget, it is always advisable to come up with a unique theme for the hen party. The ideas range from "Sex and the city" to costume or colour parties.
Party Decorations
Finally, it is the hens party decorations that will add mood to the event. Look for unique hen party banners like the Pink and Black Hen Party Banner from hensnightshop.com.au Though it may sound contradicting, never let things get out of control! You wouldn't want a new storyline for the Hangover movie series!